Bohemian Rhapsody will rock you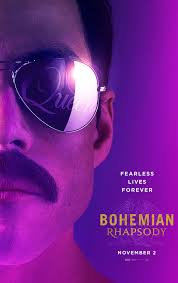 Theaters were rocked this November with the recent release of "Bohemian Rhapsody," a film detailing the life of one of Rock and Roll's most famous figures, Freddie Mercury, lead singer of Queen. The two hour long film shows Queen's journey as a band, and personal events in Freddie's life. The films shows the creation of the band, and their journey together, as well as the period of time where Freddie abandons the band in search for his own solo career, though the band does come back together. "Bohemian Rhapsody" is a wonderful example of Freddie Mercury and his iconic performance skills, and his ability to be himself and defy stereotypes.
One of the best part of the film however has to be the focus on the music. "Bohemian Rhapsody" focuses greatly on some of Queen's most iconic songs such as "We Will Rock You," "Killer Queen", "Bohemian Rhapsody", and "Radio Gaga." A lot of screen time in the film is dedicated to Queen's live performances, especially towards the end of the film where the band is shown performing their last, and arguably most iconic concert, Live Aid, in 1985. Though Queen was invited to play along side of other major artists at the time, Freddie refused, but was finally convinced to play with his band one last time. All of the proceeds made from the Live Aid concert went towards helping the the massive hunger famine in Ethiopia at the time.  The film ends on this performance, and is followed by information about each of the band members after Freddie Mercury's tragic death caused by AIDS.
Though "Bohemian Rhapsody" is a fantastic, extremely well done film, the pace of the film does seem to be a bit off. For a two hour film, the beginning seems a bit rushed and sped by, whereas the rest of the film goes at a much slower pace. When Freddie first meets the band in the beginning of the film, there isn't very much time in between to when the band's first performance is, thus giving it the feeling of being rushed.
Actor Rami Malek gave an excellent performance as Freddie Mercury in this film. He embraced Freddie's sassy and strong willed personality, as well as his funky edge. Towards the end of the film, when the recreation of Live Aid was shown, I forgot I wasn't actually watching Freddie preform, that's just how well he portrayed him.
Overall, "Bohemian Rhapsody" is a brilliantly done film and it is a joy to watch. It's a humorous, entertaining, and touching film, about one of Rock and Roll's most iconic bands, and not to mention the amazing soundtrack. "Bohemian Rhapsody" will surely rock you.