Go out to dine in
May 7, 2018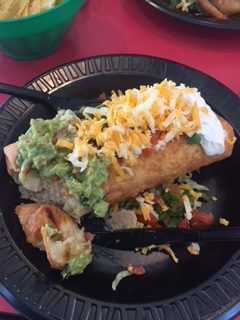 When you want a home cooked meal but don't feel like making it, you can always go to one of the many sit down restaurants in Surprise, AZ. On Sunday, April 22 my mom and I went and enjoyed the wonderful food at Carambas Mexican restaurant. Both of us ordered our favorite menu item, a chicken chimichanga.
My mom and I have been regulars at Carambas since we moved to Surprise from Glendale in 2007. We stumbled upon it when we got done grocery shopping at the Walmart on Bell Rd. next door. When we tried it for the first time we fell in love and have gone there continuously for years. A plus is that Carambas is also affordable; for both my mom and I's meals with two medium drinks it only costed us $15. The atmosphere there is also great, it's calming but as well as welcoming. It makes you feel like your in Mexico eating great food.
When you order your food you also get handed your own bowl of tortilla chips and you get to pick what kind of salsa you would like. We always get the pico de gallo, which is always so delicious and fresh.
When our food arrives at our table and we get to admire the the topping of cheese, tomato, guacamole and sour cream. It just makes you want to devour it then and there. But when you take that first bite out of the chimichanga the delicious chicken just melts in your mouth. It's cooked just right and it is incredibly juicy. It is so mouth watering that you want to order another because it's just that good.
I definitely would recommend this restaurant if you want some delicious food and still want to be able to sit down and eat it.