Service from a friend to a friend
Hang on for a minute...we're trying to find some more stories you might like.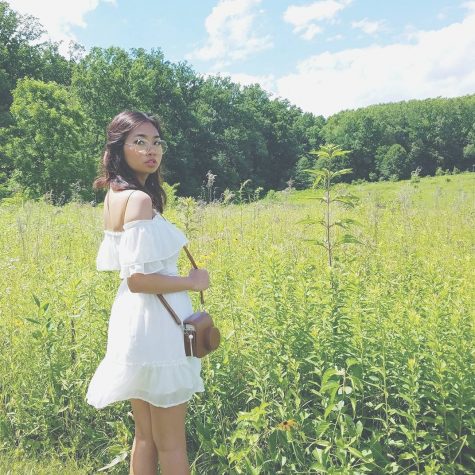 More stories from Katrina Ortiz
Dogs. You gotta love 'em. From their dopey personalities to their lovable little faces, it's no wonder dogs are one of the most beloved animal companions in the world. They're more than just adorable cuddle buddies, though. Whether they're helping the blind or even going as far as saving those stuck in a fire, dogs have proven time and time again that they are probably the closest things we've got to guardian angels.
Eighth-grader Kayla Miller is just one of the many that have experienced firsthand the blessings of man's best friend through her fun-loving Labrador-Shepherd, Ernie, who she is currently training to become a full-fledged service dog.
Without a doubt, meeting your dog for the very first time is an incredibly special moment, for both you and your furry soon-to-be best friend. Miller described what this magical moment was like when she first met Ernie.
"Ernie was a rescue from a hoarding case in Buckeye that we rescued from MCSO's MASH (Maricopa County Sheriff's Office's Animal Safe Haven) Unit," Miller said. "I got him on October 6, 2017! We had actually been searching for a dog to train as my service dog for almost 10 months until we finally found him. I was a little nervous on the way to meet him because I was afraid he wouldn't like me. But then, the officer brought him into the meeting room and he ran right over to me and laid on my lap, just waiting for his belly to be rubbed. That's when I knew he was meant to be mine. It was the best day ever!"
Miller explained what compelled her and her family to make the decision of getting a service dog.
"I have Asperger's, which is a form of autism, so it makes everyday relationships hard for me," Miller said. "I get extremely nervous around people and I like to hug and have something touching all the time. This makes it difficult because sometimes people don't like that I hug them so much or that I reach out and touch them, which makes it hard to keep friends. This made me very sad and lonely, so the suggestion was made to get a service dog to help with some of my stimming behaviors by satisfying my need to touch something and giving me someone who unconditionally enjoys all my hugs and kisses that I have to share with the world."
Miller described how much of a confidence booster training Ernie has been for her.
"I really enjoy playing soccer, but I've never really been exceptionally good at it. Just okay," Miller said. "That made me sad because I always felt like I was never going to be really good at anything. But by adopting Ernie and training him with the help of a trainer, it also helped build my confidence because I can see the progress we make together."
Every great service dog starts out with training and for Ernie, this is no exception. Luckily, Miller found the perfect person to train him with.
"My doctor gave us a reference to Kristi Smith, who owns and runs K9 Games (https://k9-games.com)," Miller said. "She provides a lot of training, either through herself or her staff, and she can either train your dog for you or she can help train your dog with you. Based on the recommendations from the doctor and her, we decided the best path was for me to learn from Kristi herself to develop the experience and confidence of training Ernie. So, every week, Kristi comes to my house for several hours and she helps me learn how to teach Ernie to do what he needs to do in order to assist me in the best ways possible. Some of these tasks will be what he's required to be tested on and approved to earn his full certification as a service dog for me."
According to Smith, Ernie will have to pass an obedience test, which is equivalent to a Canine Good Citizen Test, and a Public Access Test in order to receive proper certification. Smith described the services she provides to people like Kayla and her dog in order to help them pass these tests.
"I train all service dogs in basic and advanced obedience, house manners, tasking, and public access for on leash and off leash reliability through any distraction," Smith said. "The tasking varies depending upon the type of disability that the dog is going to be mitigating."
Smith described Miller's progress and how she's grown as a person by training Ernie.
"My time spent working with Ernie and Kayla has been very rewarding," Smith said. "I have watched Kayla blossom as she has trained her partner and seen her take great pride in her accomplishments as Ernie has learned the things that she is teaching him. Kayla is also taking initiative and creativity in assisting Ernie in learning and pushing him as well as herself to be better."
Miller reflects on her time spent training her beloved animal companion.
"I have really enjoyed my time with Ernie! He is my best friend and I love him so much," Miller said. "He has helped me be more responsible with my time management and gain new confidence because of how proud we've made my trainer. I normally get shy around strangers, but thanks to Ernie, I've gotten so better with speaking with people because everyone wants to know about him! I usually stumble over my thoughts when speaking because they come so quickly, but when talking about Ernie and the training process, it's easy for me to stay calm."
For those interested in training a service dog of their very own, Miller offered some advice based on her experience thus far.
"The first step is lots and lots of research! Knowledge is power and there is so much to learn," Miller said. "I highly recommend having the help of a trainer, since there are so many things to learn and they have studied hard to help make dogs even more awesome! Depending on the service the person needs, sometimes the only way to get certified is through a trainer. Most people don't realize that there is an actual difference between just a therapy dog and a dog trained to perform a genuine service such as behavioral modification, seizure detection, and diabetes detection of highs and lows, to name a few."
Smith offered a piece of her professional advice as well.
"Because of access rights and the fraud that exists, laws are currently tightening up in regards to service dogs.  As one of only six International Association of Chiefs of Police (IACP) Certified Service Dog Trainers (CSDT),  I would highly recommend that anyone seeking to train their dog to be a service dog consult with a professional that specializes in training service dogs," Smith said. "A Service Dog Trainer can assist them in evaluating whether the dog has the temperament and structure to be a service dog. Service dogs perform a job for the disabled individual that can range from PTSD, assisting the person in getting up, getting dressed, retrieving items, turning on lights, getting medicines, interrupting behavior, alerting high and low blood sugars, the onset of a seizure, etc., and they have long days traveling to wherever their handler goes, so they need to be structurally sound as well as have a sound temperament and have their obedience down. Not every dog is cut out to be a service dog and it typically takes about 18-24 months to fully train a service dog. A Service Dog Trainer should also be familiar with Federal and State laws regarding service dogs and service dogs in training and their access rights."
Around campus, it's hard to find a pair quite as unique as Kayla and Ernie! Their inseparable friendship truly feels like one made from heaven and it's admirable to see how far the two of them have come together. Kayla and Ernie have shown that, through its ups and downs, the process of training a service dog is an incredibly worthwhile and fruitful learning experience for both parties and that there really isn't anything that can stop man and his best friend from accomplishing incredible things together.