Rosefield's North Pole Star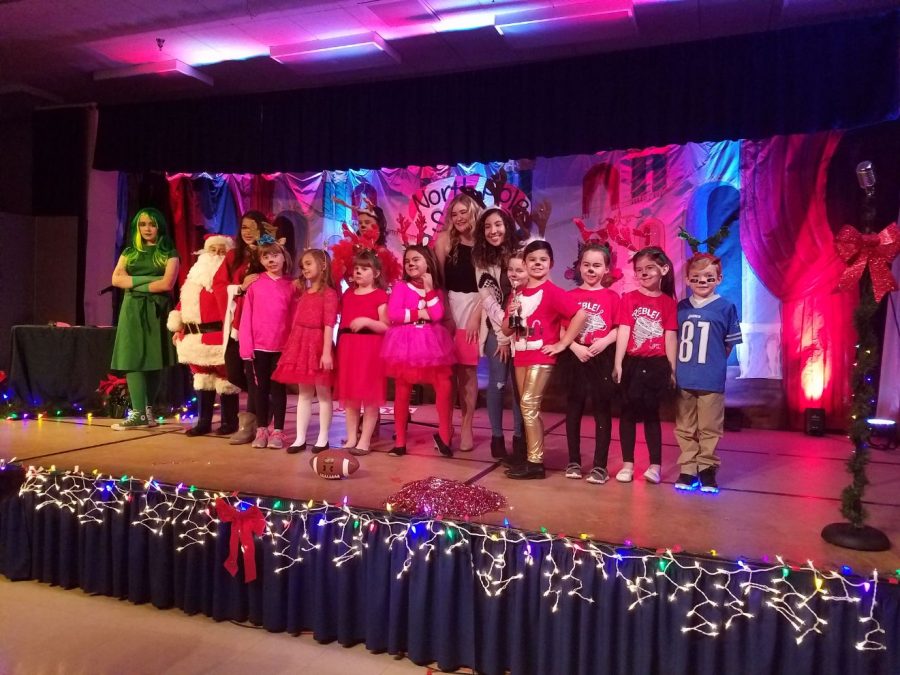 Christmas time is finally here and what better way to celebrate everyone's favorite time of year than watching America's favorite reality TV show with a fun holiday twist and a dash of festive reindeer fun?
On Dec. 9, Autumn's Treble Makers, Autumn Jones' musical theater program featuring students from Imagine Prep and Imagine Rosefield, sent us on a sleigh ride up north to become the live audience for North Pole Star, a "reality TV show" musical spoofing the popular pop culture phenomenon American Idol.  Our panel of judges, featuring Mr. and Mrs. Claus themselves and the iconic Grinch, are searching for the most talented reindeer of them all! This time around, our favorite reindeer won't be guiding Santa's sleigh for the night. Instead, Dasher, Dancer, Prancer, Vixen, Comet, Cupid, Donner, and Blitzen go head to head, or rather antler to antler, as the sing and dance their way to the top!
The play opens with the cast singing "North Pole Star" and we are greeted by Nicky Snowcrest (not to be mistaken for Ryan Seacrest), played by Imagine Prep's very own Autumn Froitland, as she introduces our panel of judges and lineup of reindeer. One by one, each of the reindeer are able to have their time in the spotlight and perform their very own song and dance number. First up is none other than Dasher, who performs "I Do Everything Fast," followed by Prancer performing "The Answer Is Prancer." Up next is "I Love to Dance" with Dancer, followed by "My Name Is Vixen" with Vixen and "I'm Goin' Straight to the Top!" with Comet. The two Cupids perform "You Must Love Me" and Donner performs "The Spirit of the Season." Blitzen ends the lineup with a bang in "It's a Blitz!" Each performance concludes with commentary from the judges. After we are given a quick refresher of each reindeer's performance, the entire cast comes together to perform "We Are All Winners here" as the audience is prompted to vote for the North Pole's top reindeer. Once the number is finished, the votes are tallied up and our winner is decided. Two of Santa's elves, one being played by Imagine Prep's Layna Rubio, head on stage and hand Snowcrest the envelope. With bated breaths, our audience is filled with excitement and anticipation as they watch Snowcrest open the envelope and reveal this year's winner…
Dancer is crowned as the North Pole Star as he wins in a landslide victory with "I Love to Dance," a zesty and humorous one-deered tango performance. As Dancer comes up to receive his trophy, however, he comes to the conclusion that everyone truly is a winner and deserves to have their time with it, ultimately deciding to pass the trophy off every month. The other judges and reindeer happily agree and come together for the finale and take their last bows as the show comes to an end.
All in all, Rosefield's production of "North Pole Star" was met with great success, which was made evident by the audience's loud cheers and applause at the play's end. Whether you were applauding the heartfelt and adorable performances of the little Rosefield reindeer or laughing at the sneaky pop culture references and corny holiday jokes, it was near impossible to find a dull moment or not smile at the goofiness on stage. It's clear that a lot of love and talent went into this production and it certainly wasn't one to miss!
Missed this year's performance? Don't fret! Autumn's Treble Makers will return once more in the spring of 2018 with a show that is sure to wow us all once more! News on the upcoming performance is yet to come, but Chasing the Storm will keep you updated!